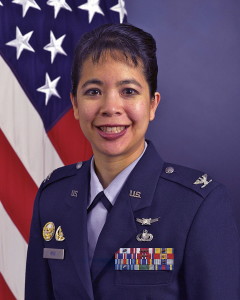 I am a graduate of the United States Air Force Academy.  Having served as a physicist for over 26 years in the United States Air Force, my training is specialized in lasers and electro-optics, but I also have extensive training and experience in space launch, missile defense, and chemical and biological defense.  My background in science and technology enables me to easily grasp concepts in medicine, health, nutrition, biochemistry, and quantum healing, so that I can help you in understanding complicated health and medical conditions and treatment approaches with easy-to-understand terminology, explanations, and where I will help you to develop a plan to achieve the health and life that you desire.  This will, in essence, allow you to become more empowered and responsilble for your overall health and well-being.
I have a Bachelor of Science in Physics, Associate of Arts in Music, Master of Science in Administration, and a Master of Military Operational Art & Science.
I am a Certified Health Minister, where I am thoroughly trained in the Hallelujah Diet.  I have also been trained in the Gerson Therapy, the macrobiotic diet, the raw vegan diet, the Budwig Protocol, Young Living Essential Oils, and have experienced healing at the Hippocrates Health Insitute, Be in Health, and the Living Foods Institute.
I taught as a certified instructor in the fitness industry for 8 years, so I have an understanding of exercise physiology and kinesiology.  I also trained in classical piano at the San Francisco Conservatory and the Eastman School of Music, and studied jazz improvisation as well, so I have broad range of knowlege and skills that I draw from in order to help you have the healthy life that you desire.
I graduated from the Institute for Integrative Nutrition where I learned innovative coaching methods, practical lifestyle management techniques, and over 100 dietary theories; everything from Ayurveda, gluten-free, and Paleo, to raw, vegan, and macrobiotics, and everything in between.
I studied with the world's top health and wellness experts including:
Joshua Rosenthal, founder and director of the Institute for Integrative Nutrition
Dr. Andrew Weil, director of the Arizona Center for Integrative Medicine
Deepak Chopra, MD, leader in the field of mind-body medicine
Dr. David Katz, MD, MPH, director of Yale University's Prevention Research Center
Dr. Walter Willett, MD, DrPH, chair of nutrition at Harvard University
Dr. Andrew Weil, MD, director of the Arizona Center for Integrative Medicine
Gabrielle Bernstein, bestselling author and life coach
Susan Blum, MD, MPH, assistant clinical professor at Mount Sinai School of Medicine
Mark Hyman, MD, founder of The UltraWellness Center
Geneen Roth, bestselling author and expert on emotional eating
David Wolfe, raw food leader and nutrition expert
Marion Nestle, PhD, MPH, professor at New York University's Department of Nutrition, Food Studies, and Public Health
Mark Bittman, food writer for the New York Times and bestselling author
Joel Fuhrman, MD, family physician and leading expert on nutritional healing

and many other leading researchers and nutrition authorities
My education has equipped me with extensive, cutting-edge knowledge in holistic nutrition, health coaching, and prevention. Drawing on my expertise, I work with clients like you to help make lifestyle changes and choose health-promoting ways that produce real and lasting results. You will develop a deeper understanding of food and lifestyle choices that work best for you, improving your energy, balance, health, and happiness.
Each session will leave you feeling inspired and motivated. We will talk about things beyond food, seeking to bring balance to important elements of your life such as love and relationship as well as career and money. I will personally and carefully guide you to make simple, small changes that transform your life.